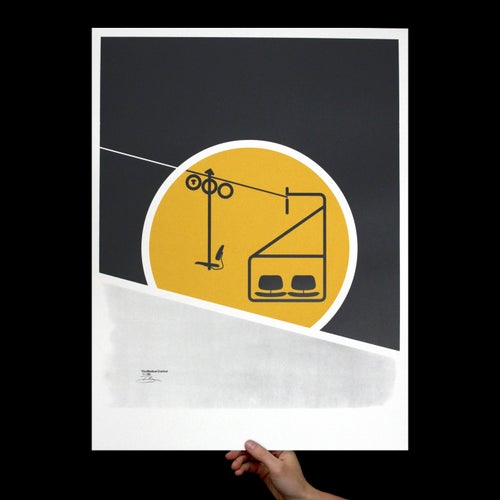 $

30.00
Eames Chairlift Fine Art Print, Hand Screenprint, Signed & Numbered, Limited Edition of 50
ART PRINT DETAILS
"Eames Chairlift" Art Print! Original Medium Control illustration transformed into a screen print. Limited Edition; 2-Color sunset yellow & charcoal Ink on white French Paper; Signed & Numbered; Print Size: 18x24"; Sized to fit perfectly into a standard 18x24" frame; Carefully rolled in a plastic sleeve and protected in a heavy duty kraft tube during shipment. Each print is signed and hand screen printed by the designer, Tommy Kronquist.
WHAT IS SCREENPRINT / SILKSCREEN?
Screen printing or silk screening is a traditional printing technique where a squeegee is used to press ink through a screen stencil, one print at a time. From beginning to end, it can be a laborious process but an art-form that allows a true piece of handcrafted art to be crafted.
DESIGNER'S NOTES
The bottom portion of the print was intentionally left drying in the screen; doing this produced random drifting snow like looks. That being said each of the 50 limited edition prints are unique.
MORE PRINTS HERE
Art Prints
FRIENDS SAVE SOME CASH
Like & Tweet & Pin & Share & Follow THE MEDIUM CONTROL on your favorite social media to SAVE 10%! After following us on one or all of our social media sites enter the coupon code FRIENDS10 to save some cash!
LET'S BECOME FRIENDS
I N S T A G R A M: instagram.com/mediumcontrol
F A C E B O O K: facebook.com/mediumcontrol
T W I T T E R: twitter.com/mediumcontrol
P I N T E R E S T: pinterest.com/mediumcontrol
Tweet